THE ULTIMATE TRIGGERS FOR PEDALS
Developed and crafted in France
Ultra resistant
and reliable
Compatible with almost all pedals and drum modules
Very responsive, even at very high tempos
15 days trial satisfied or refunded policy
Made by a drummer FOR drummers !
We are an innovative french company created by a professionnal drummer in order to offer a new solution for pedal triggering.
Our key words are RESPONSE, DURABILITY, and FLEXIBILITY. We've put a lot of efforts in the design and the choice of the materials we use to build our products. Our goal is to offer the most responsive and solid triggers compatible with the most pedals on the market, CATCH ALL YOUR HITS FOR A VERY LONG TIME !
We always try to bring some improvements so if you have any suggestions, feel free to write us !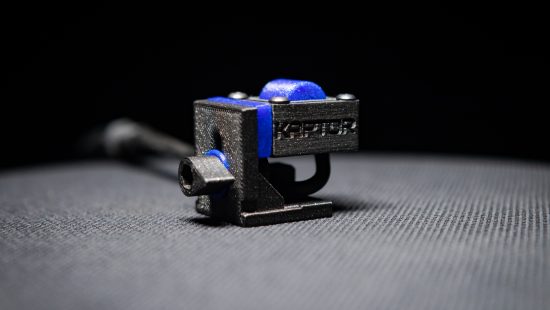 We are very proud to count these talented artists among our users!
Full explanation video by our artist Quentin Regnault
Here you can see our Products in action !
The Kaptor Triggers are one of the most accurate and reliable pedal mounted triggers I've ever tried. The use of plastic for the sensor is a total game changer as it is extremely solid, silent and prevents the problems of rebound of the footboard on the trigger. The holders are a great innovation as you can simply remove the triggers without removing the tape from the pedal and you can install the triggers on another pair of pedals within a few seconds. You can adjust very precisely the height of the triggers with a key and you can be sure that it won't move, even after numerous intense practice sessions. Kaptor Triggers are the definitely the new standards in the pedal mounted triggers market.
There are many good reasons to use triggers, but not everyone has the same use for them. Personally, I use them mostly for my bass drum monitoring. It allows me to hear each hit more precisely and thus to correct small imperfections more easily. I've been using triggers with a traditional system (sensor directly on the skin) for a few years now, unfortunately if this technology works very well in my room with my drums, it's not as reliable in concert when I play, for example, on another drum set, with different skin tensions. That's why I chose to work with Kaptor Triggers which offers a captation directly on the pedal, which greatly avoids the problems of faulse triggering etc... Besides, it's a French brand and I like that. I had the opportunity to talk with Thomas, the creator of the brand, who is an excellent drummer, and this is important because he confided to me, long before we talked about partnership, that he had started because he was dissatisfied with the competitors' products (I should point out that at that time, he did not know that I was using triggers, as my playing did not particularly require them). Concerning the after-sales service, he is very attentive to give me advices, especially about settings, as a real enthusiast, I imagine that he does it for everyone. To be honest, I hate electronics and I still have to tinker a bit to find the best setting, but it's already very satisfying when I didn't spend more than 5mn on it. For all these reasons, I have full confidence in Kaptor Triggers and its founder Thomas.
This is the first time I'm using pedal triggers. I've always been using head mounted ones, until now.
What I aim to achieve by triggering my bass drum, is to have a powerful yet dynamic kick sound, easy to mix for the sound engineer. With those head triggers, I was always struggling to find the sweet setting spot on my 2BOX module.
I had to avoid any false triggering from the vibrations of the head, from the snare hits, but also detect fast and low velocity hits, AND keep a certain amount of dynamic. But now, with the Kaptor Triggers, it's a life changer for me.
Not only they're solid and reliable to be used with my Polish tank pedals (Czarcie Kopyto), easy to install and set up, they also make the settings so much easier to mess up with.
No more vibration disturbances, I can set the threshold and the velocity curve as I want.
I can finally choose to have a triggered kick sound that perfectly follows the real dynamic of my hits, or a death metal machine-gun like kick sound, even on a low head tension !
Not to mention that I'm now able to play on other bass drums, without having to touch any settings of my module.
That's definitely a yes!
I have been playing with standard mics for a long time, but I have often had trigger issues. Kaptor Triggers solved my problems! These sensors are very precise and solid! No chance of breaking them (with normal use …). I can play another bass drum quickly without having to change my settings! Made in France! Fast and very secure shipping!
The kaptor trigger is in my opinion the best trigger on the market today. It is extremely solid and its mounting system, in addition to increasing the stability of the trigger itself, ensures ease of disassembly and reassembly, moving it from one pedal to another and thus avoiding the use of excess adhesive tape. In fact, in the box it is possible to find 4 mounting systems that guarantee the easy use of the triggers on four single pedals or on two double pedals. My favorite aspect of the trigger is that it has a system that allows you to raise and lower the trigger sensor pad to your liking, and its robustness is ensured by an easy-to-use screw. This ensures that even those with very "heavy" feet do not have to reset the trigger every time because the sensor moves down. As if this were not enough, the kaptor trigger has a really dynamic profile that makes it much more beautiful, and obviously functional, than many triggers on the market today and which also cost much more. I really recommend this trigger to everyone and I'm sure I'll get more in the future.
I've had a lot of experience with triggers, from the ddrum pro and Roland hoop mounted style, as well as Footblasters, and I can honestly say the Kaptors are the best design to come to the game so far! These triggers simply work! Once you get them mounted, you'll notice right away how responsive they are. The plastic sensor design really does prevent double-triggering, even with the sensitivity cranked! I can't recommend this setup enough. The instructions are included via a QR code that you scan to watch a full video, and if you have questions, you'll get a response very quickly; the personal service makes everything a lot easier, and I asked a lot of questions! I use the Roland TM-2 module and these work like a dream with no issues, even at 32nd note speeds.
After testing several different trigger systems, I finally found one that worked perfectly. There was always something wrong with my previous choices: the resistance was not as strong as expected, double triggers, questionable manufacturing, etc... With the Kaptor trigger, I finally found a product that works, reliable, solid, of good quality and on top of that...made in France! I use Czarcie Kopyto for which I am also endorsed and the Kaptor Trigger works very well with my pedals coupled with my TM-2 module. Moreover, with the new version of the triggers, it is even easier to adjust the sensor. No more need to have a drum clamping key at hand, everything can be adjusted by hand with the new adjustment system integrated in the sensor. No more stress about playing on other bass drums than mine, always wondering if I'll be able to touch the bass drum settings, if I'll have resonances that will interfere with my playing, etc... With the Kaptor Trigger, these fears are over and are replaced by simplicity and reliability.
I've been using triggers for years, tried different models but I quickly encountered difficulties with settings and reliability. I then declined the skin-mounted sensors and concentrated on the pedal-mounted ones. When you are on tour, you need solid, easy to use, durable and quick to set up equipment. Moreover, I prefer what is produced in France. I stumbled upon the Kaptor Triggers and I was delighted. I would like to point out that they are very solid and very sensitive. I didn't feel the need to adjust my module any more for a simply incredible playing comfort. These sensors are now inked on my pedals. Go for it with your eyes closed!
Kaptor triggers are just the most accurate, solid and reliable pedals mounted triggers. This is the first time I use this kind of triggers. It's way better than all others type of triggers on the market in my opinion. With this system you're sure to do not have some false triggering from the head... It works with all modules. I use the kaptors with a roland module and it works perfectly. I'm really happy, it's a game changer. Bravo Kaptor Triggers!
Whatever your bass drum technique is, what you need is to be heard. When playing fast double bass you need to be able to get through the guitar wall, and triggers are the solution. I've been searching for the perfect triggering solution for years. I've tried a lot of products: Hoop mounted, built-in, ekits and pedal mounted triggers. None is as reliable as Kaptor Triggers. Compared to other brands, Kaptor doesn't have a bending plate for height setting. Instead it uses a set screw, and once set, it will never move. In addition the mounting support system allows you to change your settings without lying down on the floor, and without tool. Even better, after one year of heavy use, there is absolutely no sign of wear at all. Support is also quick, friendly, and performed by the designer himself. Kaptor Triggers installed on my Czarcie Kopyto pedals is the perfect combination to make my drumming in Inward as precise as it can be. Support Made In France!
For me it's a first to use triggers because for my playing I didn't necessarily have the use of it. But by asking around and especially for concerts I thought it could be a very good thing if it could improve my playing and the sound quality of the bass drum in concert. So I decided to get a trigger, but which one? Thanks to my drummers friends who advised me to go to Kaptortriggers! And it's definitely a great product with a great price! There is no better on the market! Easy installation, no need to tinker with the pedal. Thomas who is at the head of this company is really very attentive on the request of the customer and the need! After sales service is at the top and very reactive! It is with great joy that I join the Kaptortriggers family! Stay thrash !
They are the best triggers I have tried, better precision, better design, easy way to adjust, the best!
Reluctant at first, because this type of sensor seemed to me to be intended for extreme speeds. In fact, these sensors do the job just as well in more relaxed styles. The biggest advantage in my opinion, is that there's no need to change the settings of the module when I play on other kits, no more false triggers, just plug in and it works!
No more false triggerings, simple settings, super reliable and rock solid, the Kaptor Triggers have definitely reconciled me with triggers! Congratulations to the whole team!
To contact us, just send us your request with the form below or just use the messenger button and we'll answer as soon as possible !